New home and a new lease of life for Allan thanks to GHA
A tenant who lost his leg to diabetes is enjoying a new lease of life thanks to a wheelchair-adapted home in the neighbourhood where he has lived for decades.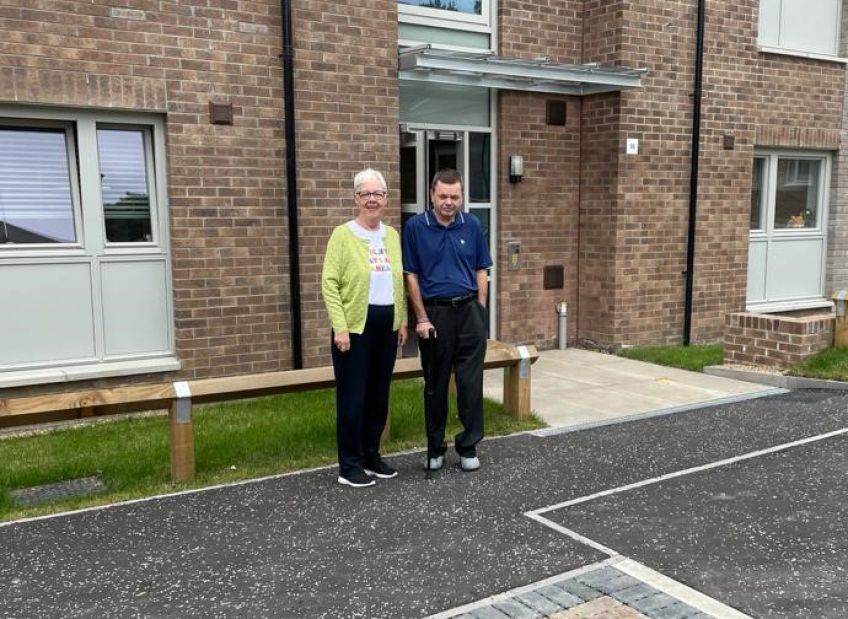 At the end of May, Allan McNally and his wife Moira moved into their new home in Kennishead Avenue in the south side of Glasgow after spending 35 years living in a maisonette just down the road.

After Allan, who celebrated his 70th birthday in July, had his leg amputated in 2015, the couple struggled in their home because of the stairs.

Now they live in a ground floor, wheelchair-adapted home in a new-build development built by GHA, part of Wheatley Group, close to friends, family and the community they love.

It has space for Allan's mobility scooter, and they can enjoy a busy social life again – with visits from neighbours and regular trips to his bowling club.

GHA built the new homes on the site of two former 1960s tower blocks demolished in 2015.

Moira said: "In the old house, we were up and down the stairs, and it was really difficult. The stairs were a problem. Now everything is on one level.

"Allan has a mobility scooter and he can get out and about so much more. It makes such a difference. He's been going to his bowling club a couple of times a week and socialising with the men at the club. It is good for his happiness.

"There's a wet room which is a big help as well, he's not having to go up and down stairs to use the bathroom."

Moira added: "The occupational therapist had wanted us to move house, but we had been in the area so long and our family and friends were here. So, we wanted to stay in the area.

GHA built 48 homes at Kennishead – a mixture of flats, houses, wheelchair- adapted and a Livingwell site designed especially for older tenants, which also has a common room.

The £7.6m development was part-funded by a grant of £3.5m from the Scottish Government and was built by contractors Engie.

Livingwell manager Melissa Campbell said: "It is lovely to hear how happy Mr and Mrs McNally are in their new home.

"They are one of many long-standing tenants who have moved to a new-build home in Kennishead after living in the area for decades.

"The new homes have given everyone a new lease of life as they have the security of the Livingwell service, a home that meets their needs and allows them to stay in the area they have lived in for so long. I wish them all many happy years in their new homes."
Moira, who celebrates her 70th birthday next month, added: "It's a nice house, it is very spacious. Everything is so new – I'm almost bored as I have hardly any housework to do!

"We feel part of the neighbourhood. The neighbours are nice, and we have had friends from the maisonette around – they are all so impressed with the house.

"We have a big open garden and a wee garden at the front that I sit out in. You can see everyone passing by and say hello.

"We lived in the old maisonette for 35 years, so we knew a lot of people, and some of them have moved here too.

"Our housing officer, Angela, has been wonderful – nothing is ever a problem".
Friday, August 20, 2021